---
Silence In The House, you heard it on the grapevine
Is traffic noise disturbing your family's sleep? Then ask Clearview to fit secondary glazing!
We have recently been featured in Sheffield Grapevine Magazine with an article showcasing the acoustic benefits of our secondary glazing including genuine customer reviews. Read the full article below to find out what was said about our products and service.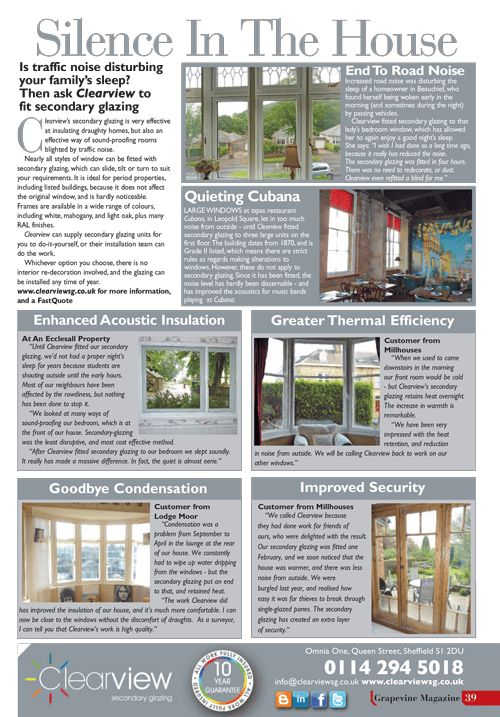 Clearview's secondary glazing is very effective at insulating draughty homes, but also an effective way of sound-proofing rooms blighted by traffic noise.
Nearly all styles of window can be fitted with secondary glazing, which can slide, tilt or turn to suit your requirements. It is ideal for period properties, including listed buildings, because it does not affect the original window, and is hardly noticeable.
Frames are available in a wide range of colours, including white, mahogany, and light oak, plus many RAL finishes.
Clearview can supply secondary glazing units for you to do-it-yourself, or their installation team can do the work.
Whichever option you choose, there is no interior re-decoration involved, and the glazing can be installed any time of year.
End To Road Noise
Increased road noise was disturbing the sleep of a homeowner in Beauchief, who found herself being woken early in the morning (and sometimes during the night) by passing vehicles.
Clearview fitted secondary glazing to that lady's bedroom window, which has allowed her to again enjoy a good night's sleep. She says:
"I wish I had done so a long time ago, because it really has reduced the noise.
The secondary glazing was fitted in four hours. There was no need to redecorate, or dust. Clearview even refitted a blind for me."
For more information on secondary glazing please give our friendly team a call on 0114 294 5018 or email [email protected]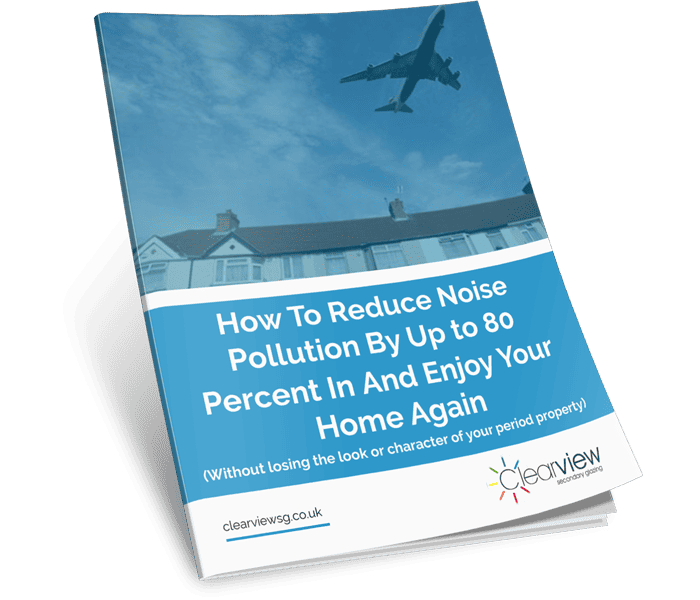 Discover How To Reduce Noise Pollution By Up to 80% In 14 Days or Less
Is noise disturbing peace in your home? The good news is there is a solution. Our free guide explains how "How To Reduce Noise Pollution By Up to 80% In 14 Days or Less… …And Enjoy Your Home Again"
Simply enter your name and email below and we will send a free copy straight to your inbox.
Recommended Posts
21/01/2018
20/11/2016