---
Now you see it…now you don't.
Clear View secondary glazing is perfect for period windows, because it cannot be seen – and is easy to fit.
Do you live in a period home with draughty, leaded windows? Don't to rip out that lovely glass – talk to Clear View about secondary glazing.
Clear View fitted secondary glazing to a large 200 year-old single-glazed window at a house on the outskirts of Sheffield.  The draughty window in question spanned the staircase, making it very cold and breezy.
Homeowner, Julie says: "We noticed how cold the stairs were when we first moved here, three years ago. But last winter freezing temperatures made the staircase unbearable.We did not want to replace the window because it was so old and impressive – but we needed to stop the draught.We decided on secondary glazing, and found Clearview on the internet."
Secondary glazing is the best thermal insulator and noise reducer for windows. It is non-invasive (you can hardly see it outside or inside) and comes in a range of colours (white, mahogany, light oak, and many more), plus various styles: sliding-sash, hinged, horizntal or vertical-sliding.The secondary glazing is easy to open and clean (and much cheaper than double glazing). It is easy to fit, because old windows are not taken out. Which means there is no need for re-decoration. Many of Clear View's clients live in period homes that either don't suit UPVC double-glazing, or cannot have it because they are in conservation areas. So secondary glazing is perfect. It fits neatly on the inside of the window and is almost invisible. It preserves the period look of a house, retaining heat, and reducing noise from outside.
Secondary glazing can even be fitted onto double glazing – which is often necessary when someone lives on a noisy main road. You can have one window secondary glazed, or several. And, Clear View can supply the materials for you to fit, or his expert installers will do the work.
Recommended Posts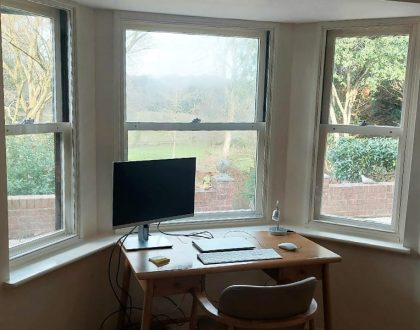 11/03/2022