---
Collaboration Street.
Three homes on the same street in a Sheffield suburb have had secondary glazing fitted by Clear View, including the bay featured here (and 13 other windows) at one home.
Ask your neighbours. Which tradesmen do they recommend? It's the sensible thing to do when considering home renovations. David Coldron took the advice of people who live nearby when he wanted to fit secondary glazing at his five-bedroomed, semi-detached home in Millhouses. The property dates from 1887, and David was keen to preserve its period look. He knew that windows of two houses on his street had been insulated, and their owners told him the work was done by Clear View, whose services they recommended.
Says David: "My window frames were typical wooden-single-glazed ones. They suited the property, and were still in good condition, but let in draughts. The bay window was a particular problem because it caused the living room to be cold in winter. Secondary glazing seemed to be the solution, and when my neighbours spoke highly of Clear View, I called them in."
Clear View fitted secondary glazing to the bay and 13 other windows in David's house.The work was finished in a day and a half, and afterwards there was no need for re-decorating or cleaning up. David chose three different styles of secondary glazing for his various windows – taking advantage of Clear View's extensive range, which suit frames that are horizontal or vertical-sliding, hinged, or sliding-sash.
"I was very impressed with Clear View," says David. "They're weren't pushy.They looked at what needed doing, gave advice, and a price. All the sash windows are fully working, and there is access to the beading should maintenance be needed in the future."
Clear View's secondary glazing is so well designed and installed that it is invisible from the outside, and can hardly be noticed inside. Its frames come in a range of colours, including white, mahogany, and light oak. The glazing is easy to fit, open, and clean, and much cheaper than double-glazing. It is also more cost-effective than renewing old, single-glazed wooden units. Replacement of frames is not the best idea, as the timber used in Victorian and Edwardian windows is usually far superior to timber used today.
For the DIY-savvy, Clear View can supply materials for you to fit yourself, or their qualified installers will do the work.
English Heritage have published research showing that Clear View's methods can match the performance of double glazing – at less cost, and without having to lose the original, primary windows.
Recommended Posts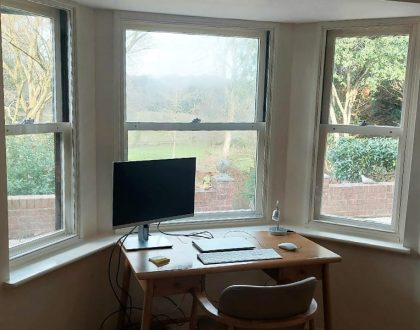 11/03/2022