---
The glaze that amazes
Original windows in older houses can be attractive features, but are often really draughty. Replacing them with double-glazed units is expensive, disruptive, and not always the best choice. The alternative is secondary glazing, which is easy to fit, does not change your home's external appearance – and is almost invisible when looked at from inside.
Clear View are secondary glazing specialists, and they have fitted and supplied their product in houses and properties of every size and age.
One such property is in a council-designated 'special interest area.' Meaning there are restrictions on altering the external appearance of buildings. The house was built in 1886, and the present owners have lived there for over 38 years. It has number of original Victorian features (bell-strings in the kitchen to alert servants, who would have lived in the attic). All but one of the windows in the property are original, and single-glazed.
House owner Robert says: "We didn't want the expense and hassle of replacing our windows, because they are in good condition, and a lovely feature. So when we heard about Clear View, we gave them a call."
We fitted secondary glazing to the large bay window at the front of the house, and to another large window in a front-facing reception room.
"It was installed in a day," says Elaine, "and there was no damage to our decor. In fact, if we'd been out – and not known the work was being done – we wouldn't have realised the fitters had been here. It was all done professionally, and quickly. Clear View were a lovely company to deal with. The workmen turned up on time, and finished the job when they sad they would. We are very happy."
The home owners immediately noticed that the secondary glazing reduced outside noise, and they're looking forward to a warmer home next winter.
Clear View secondary glazing is non-invasive (you can hardly see it, outside or inside), and comes in a range of colours, including white, mahogany, and light oak. There are various styles: sliding-sash, hinged, horizontal, or vertical-sliding. It's easy to fit, open, and clean, and much less costly than double-glazing. It is also more cost-effective than renewing old, single-glazed wooden units. Windows are not taken out, so there is no need for re-decoration.
Clear View can fit secondary glazing to all of your windows or just one. Installing secondary glazing keeps rooms warms, and therefore helps save money on fuel bills. And, you can also fit it yourself, if you like a spot of DIY.
…Why not get an idea of how much you could save? Visit our fast quote page, tap in some details, and we'll deliver a quote to your inbox in minutes.
Recommended Posts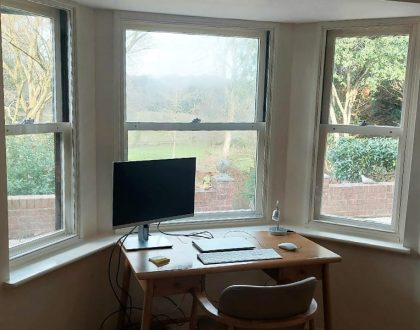 11/03/2022