---
A room with a (Clear)view.
11/07/2013
No Comments
1481
It's a pane having to replace old windows, and you can risk spoiling the appearance of your home. But old, original windows are often draughty, and the high cost of heating means they have to go – unless you contact Clearview.
Clearview supply streamlined, discreet secondary glazing that can't be seen from the outside, and is hardly visible inside, where you will immediately notice how much warmer and quieter your home is.
The owners of the home shown in these pictures asked Clearview to fit secondary glazing to two small upstairs windows, and their large rear bay. The bay window is original to the house, which was built in the 1930s. The bay's wooden frame is still in good condition, but the room was chilly in the colder months and the windows produced so much condensation that the homeowners, David and Pauline, regularly had to change damp curtains.
David says: "We really like the look of our bay window, it was one of the things that persuaded us to buy the house in 1977. But the condensation was a real pain.We called Clearview, and went to look at installations they had done in our area. We were impressed, so asked them to do the work."
Secondary glazing was fitted to the window in under a day. A panel was also fitted over the glass panes in the door – and its the handle can still be used. Now, as well as having a dry, warm room, they have increased the security of their home, as secondary glazing provides another barrier for potential intruders to breach.
Clearview's wide range of secondary glazing styles fit over any panes, and can slide, tilt or turn to suit you. Secondary glazing ideal for listed buildings and period homes – Georgian, Victorian, Edwardian and 1920s, 1930s and 1940s – in conservation areas, and where city planners are not keen on double-glazed window units spoiling the look of a street. We're proud to be a supplier to the National Trust, too. Secondary-glazing frames come in a wide range of colours, including white, mahogany, and light oak. The glazing is easy to fit, open, and clean – and there is no redecoration required. It is more cost- effective than renewing old, single-glazed wooden units.
Clearview can supply materials for you to DIY your secondary glazing, or their installers will do the work if you live in their fitting region. English Heritage have published research that shows Clearview's methods can match the performance of double glazing.
Clearview secondary glazing - the solution to significantly improved acoustic and heat insulation to your property, making your home or offices more comfortable, secure, greener and cost efficient to run. Achieved without the disruption of replacement windows, and without damaging the character of your building.
Recommended Posts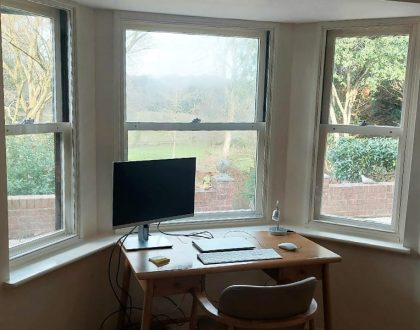 11/03/2022