---
Windows to our past
Clear View have installed secondary glazing to virtually every type of property, of every age, and of every size.
A particularly interesting example is Renishaw Hall in Derbyshire, the family seat of the Sitwell family.
The building, which dates from the 17th century, is a Grade I listed building and has been the home of the Sitwell family for over 350 years.Today it is owned by Alexandra Sitwell.
Clearview fitted secondary glazing in the family's private quarters.Two colours were used – a dark wood-look for two windows in a draughty hall that is in the oldest section of the building, and white for a bay window in the study. In both cases, the windows had been previously single glazed.
Because the building is Grade I listed, discreet secondary glazing was the most appropriate, and least expensive, way of insulating it's many rooms. The best part is, now it's complete, you can barely tell it is there.
Says Alexandra Sitwell, the property owner: "The study, stairs and hall were very draughty and cold last winter, so we researched secondary glazing. It really has worked, and we're now much warmer.We contacted Clearview after a recommendation, and I was happy with the service, and quality of the product."
Secondary glazing is a highly effective insulator and noise reducer. It is non-invasive, and virtually invisible – you see the beautiful original window, not the secondary glazing. It comes in a fabulous range of colours and styles – sliding sash, hinged and horizontal or vertical sliding. Because the primary windows are untouched, it's simple to fit too – and there's no need to re-decorate afterwards. Clear View can supply the secondary glazing to your specification, for you to fit yourself, or his installation team can do the job for you. Visit Clear View, and start making your home warmer, greener and more welcoming – whatever it's age.
Recommended Posts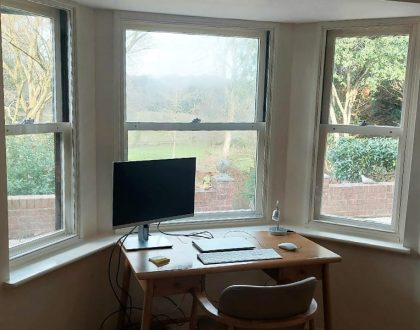 11/03/2022