---
Could Secondary Glazing Save You Money?
If you're looking for ways to reduce your heating bills without ruining the character of your home, consider secondary glazing.
It is estimated a shocking £2 billion of energy is wasted through windows and doors every single year. When this is added up, the colossal amount of wasted heat is enough to heat up to 1.8 million homes for a whole year, so instead of wasting energy and money from your home, why not consider secondary glazing and the multitude of benefits it brings.
What Is Secondary Glazing?
Secondary glazing has numerous advantages in itself. Secondary glazing involves installing supplementary glazing on the inner side of the window. Extra glazing is ideal for period homes as you keep the original windows and therefore the character of your home. Secondary glazing is also great for improving the thermal insulation of listed buildings and houses in conservation areas where altering the appearance of original windows is prohibited.
A cost-effective answer to improving the thermal efficiency of your home is secondary glazing, particularly in cases when UPVC windows can remove character from your home. If you notice air leaking from your window frames or have insecure window panes, then secondary glazing might be the answer for you.
What Are The Benefits?
When 20% of heat can be lost through single glazing, it is time to make your home warmer and more comfortable and stop those cold draughts sweeping through your rooms once and for all. Secondary glazing can significantly help your house to retain its heat, which means less heating required and thus reducing your energy bills. As the cost of energy is continuously rising, it makes practical economic sense to reduce your bills in any way possible. Investing in secondary glazing can help to save up to 10% on your heating bills.
Many environmental benefits come with secondary glazing. With reduced energy use, you are significantly shrinking your carbon footprint. Secondary glazing also means you do not have to replace your windows, thus reducing landfill and less of an impact on the fossil fuels needed to create new windows.
As well as increasing the thermal efficiency of your windows by around 60-70%, secondary glazing can help to make a quieter home, reducing the noise pollution from outside. It is common for homes to notice a 70-80% drop in noise once installing secondary glazing. As well noise reduction, further insulation helps to minimise the risk of condensation. Insulation can also help to boost the security of your home, as secondary glazing is often made with toughened glass.
As well as saving you money on your energy bills, secondary glazing can add value to your home which makes improving your windows a no-brainer. When choosing secondary glazing, you can make further improvements with K glass, which has a heat reflecting coating for further insulation or Low-E glass, which gives further insulation as the emission of radiant heat is reduced.
If you're looking for ways to increase the comfort of your home, while retaining its beautiful character and save money, consider secondary glazing as the answer.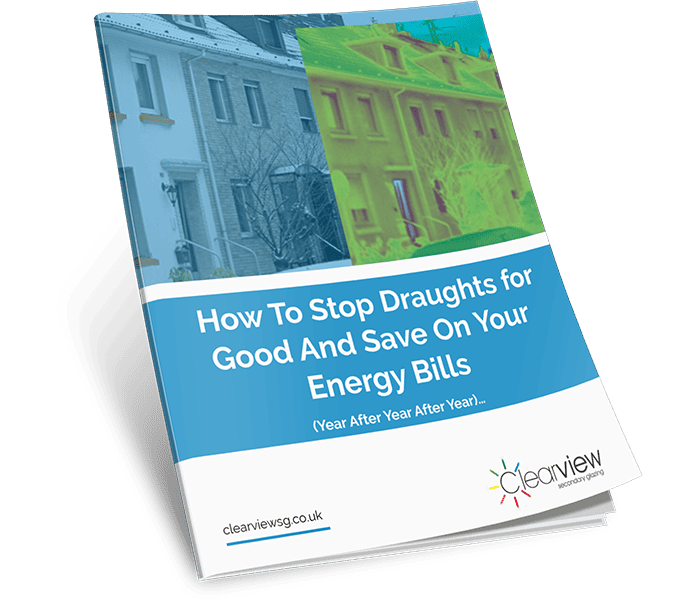 Discover How To Stop Draughts for Good And Save On Your Energy Bills
This free eGuide – written by specialists – explains in simple terms how to improve the thermal efficiency of your windows by more than 60% and how you can reduce your yearly heating bill by 15%.
Simply enter your name and email below and we will send a free copy straight to your inbox.