---
An end to the pane of single glazing (geddit?).
14/12/2012
No Comments
971
Heat easily escapes through single glazed windows, allowing in cold and draughts and dramatically increasing your heating bills. This is a problem for homeowners with period property, who haven't installed double glazing because they would like to preserve the character of their original windows. But an almost invisible barrier to heat loss and draughts is available – Clear View's secondary glazing. It is a much cheaper alternative to replacing the entire window, and has the added benefit of dramatically reducing street noise.
Because secondary glazing cannot be seen from the outside, and is hardly noticeable from indoors too, means it's possible to preserve the unique look of old windows, which is especially important in conservation areas.
All these factors were taken into consideration by Jillian Creasey and her husband Jim Cowley when they were considering insulation and heating efficiency measures for their 4 bedroom terraced home in a leafy suburb on the west of Sheffield. Jillian and Jim had already taken steps to insulate their home and make savings on energy bills; they had insulated their loft and had solar panels fitted to the roof. Clear View fitted 3 windows with secondary glazing in less than a day. Jillian (a local Green Party councillor) says: "One of the rooms that we had secondary glazing fitted in is used as an office, and should be much warmer this winter. We were very happy with the work Clear View did".
Clear View's secondary glazing frames are available in a vast range of colour options; the standard white, plus wood tones such as mahogany and light oak, and a whole spectrum of shades to match to stone mullions or interior decor.
Clear View secondary glazing is simple to fit, easy to open and a doddle to clean. It is much more cost-effective than renewing old, single glazed wooden window units. Replacement window frames are often not the best solution, as the timber used in Georgian, Victorian and Edwardian windows is usually far superior to that used in modern frames.
Clear View can supply materials for you to DIY, or their team of installers can do the work.
English Heritage have published research that show Clear View's methods can match the performance of double glazing – at a fraction of the cost.
Clearview secondary glazing - the solution to significantly improved acoustic and heat insulation to your property, making your home or offices more comfortable, secure, greener and cost efficient to run. Achieved without the disruption of replacement windows, and without damaging the character of your building.
Recommended Posts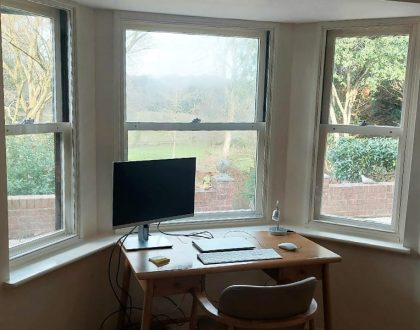 11/03/2022