---
Condensation can be a real pane.
Condensation can be a real pane. For years John S had been mopping it up every morning from the bay window of his 5 bedroomed home.
Clearview speedily fitted secondary glazing to the bay window, ending John's drippy problem once and for all. John and his wife Barbara have lived in their home for 50 years, and the house was originally built in 1905. It's located in a conservation area, where local councillors take a dim view of window alterations that change the exterior look of a house.
The single glazed bay in the front lounge looked good, but made the room chilly and dripped rivers of condensation. Says John: "We love the bay's original glass, and didn't want to change it, but there was so much condensation that every morning I had to use a bucket and cloth to clean up the water."
"Then we read about Clearview's secondary glazing, and called them."
Clearview specialise in quickly making homes much warmer by stopping cold draughts blowing in through windows, and heat rushing out – dramatically increasing fuel bills.
Clearview's secondary glazing provides an almost invisible barrier between you and cold (and hot) weather, as well as significantly reducing outside noise.
Says John: "The lounge is much warmer since the secondary glazing was fitted, and the condensation has stopped. We have also noticed a reduction in noise from the main road outside. We really like the fact that the secondary glazing does not detract from the look of the bay, inside or out. We don't notice it."
Clearview's secondary glazing frames come in a huge range of colours, including white, mahagony and light oak. The glazing is easy to fit, open and clean. It is more cost-effective than renewing old, single glazed wooden units. Replacing old window frames isn't a good idea, as the timber in Victorian and Edwardian windows is usually far superior to that used today.
Clearview installers can do the fitting for you if you live in their fitting area, or they can supply the glazing for you to fit yourself.
English Heritage have published research that Clearview's methods can match the performance of double glazing.
Recommended Posts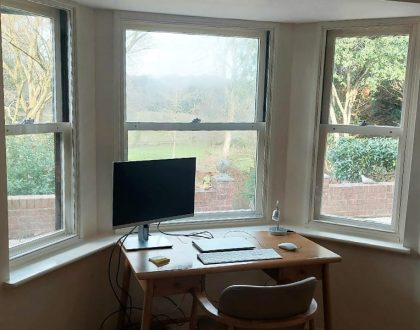 11/03/2022