---
Artist's Rough Draughts
We all suffer for our art. Clearview customer Peter Inman took up painting and sketching after retiring as a surveyor in 2010, but the front bedroom he used as a studio – at his home on the western edge of Sheffield – was plagued by cold draughts. Then he and his wife, Ann, read about Clearview's secondary glazing system.
The Inmans' house was built in 1938, and still has original leaded windows in its two-storey bay, and stained glass to panes lighting the staircase. Their original wooden frames were in good condition, but allowed in gusts from the moorland beyond – making things very chilly.
Says Peter: "When Ann and I retired, we spent more time at home, and noticed how cold the place was. This was especially noticeable to me when I was painting, and I suspected our old, single-glazed windows were to blame.
"To find out, I conducted an experiment – fitting polythene sheets to the bay window at the front of the house, and to windows at the rear. I noticed that when the polythene billowed out at the front, the sheets were pressed against panes at the rear. This showed there were fierce draughts blowing through. But I didn't want to lose our leaded windows, which are a lovely original feature. So when I heard about Clearview secondary glazing, I gave them a call."
Clearview fitted secondary glazing to the bay window that covers the front lounge – and the front bedroom where Peter works. It was also installed on the stained glass window.
Peter says: "The secondary glazing has improved the insulation of our house. It's much more comfortable. I can now work close to the windows without the discomfort of draughts. As a surveyor, I can tell you that Clearview's work is high quality."
Clearview's secondary glazing is suitable for nearly all styles of window, and can slide, tilt or turn to suit your requirements. It is ideal for period properties, and listed buildings because it doesn't affect the original window, and is barely noticeable inside or out. The frames (easy to fit, open, clean) are more cost effective than replacement windows, and available in a wide range of colours, including white, mahogany, and light oak, plus special RAL finishes. Clearview can supply secondary glazing units for you to DIY, or their installation team can do the work. Whichever option you choose, there is no re-decoration required, and the glazing can be installed at any time of year.
English Heritage have published research showing that Clearview's methods match the performance of double glazing. Download the information at www.clearviewsg.co.uk
Recommended Posts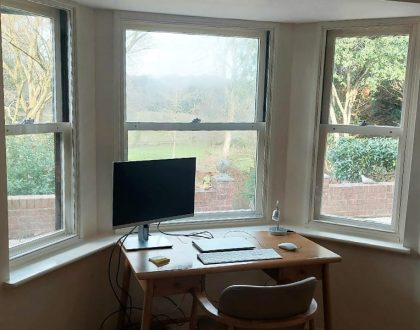 11/03/2022