---
Vintage style, vintage windows (without the draughts).
23/09/2013
No Comments
1649
Clearview customers Melanie and Glenn Sanderson like the 1940s era and style so much that their semi-detached Sheffield home reflects the decor of that decade, although the couple didn't much like the authentic Forties' draughts which blew through their dining room's bay window – or the rivers of condensation it created. The house still has its original windows, which are leaded, some with stained glass panes, and the couple very much wanted to keep these.
Their Edwardian home has central heating throughout, though this wasn't the norm in a 1940s house, when things were very chilly throughout the famous winter of 1947, one of the coldest of the 20th century.
Life would have been much more comfortable if Clearview's secondary glazing had been around all those years ago. It's around today, and ideal for period homes because it's so unobtrusive. It can't be seen from the outside, and it's barely visible from the inside. None of a home's unique period features are hidden. Any size of window pane can be secondary glazed, and Clearview units can slide, tilt or turn to suit the style of the original window. Besides helping rooms retain their heat, Clearview secondary glazing drastically reduces noise from outside too: traffic, airplanes – any unwanted noise.
Says Melanie, of the installation: "We had the secondary glazing fitted in January, and immediately noticed the benefits. Our dining room is much warmer, and quieter. But, the most welcome change is that condensation no longer drips from the bay window.
Clearview were great to deal with, we will be calling them again to look at the other windows in our house".
If you live within Clearview's fitting area, their installation team can fit your secondary glazing, or you can DIY (on your own, or with the help of a trades person!) Clearview secondary glazing is easy to fit, can be fitted 365 days a year, causes no disruption, and there's no need to redecorate. It's easy to clean and maintain, and a heck of a lot less expensive than double glazing. Why not get a FastQuote now?
Clearview secondary glazing - the solution to significantly improved acoustic and heat insulation to your property, making your home or offices more comfortable, secure, greener and cost efficient to run. Achieved without the disruption of replacement windows, and without damaging the character of your building.
Recommended Posts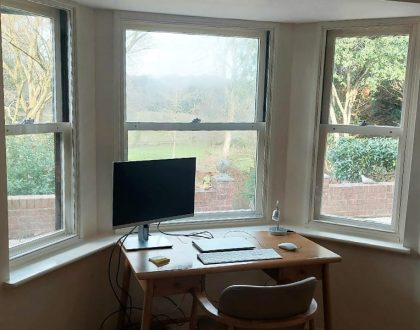 11/03/2022