---
Wesleyan Warmth. (Secondary glazing this church's leaded windows helped cut their energy bill)
The congregation of Wesley Hall Methodist Church in the suburb of Crookes in Sheffield are enjoying warmer services, thanks to Clearview, who've fitted secondary glazing to windows in 4 of the rooms there.
The church, built in 1907, is busy throughout the week, hosting activities of a range of local societies including a slimming group and a nursery.
Rising energy costs, and draughty leaded window panes meant the hall was often chilly, and expensive to heat. The church's building manager, Matt Irons, looked into a range of ways of making the building more energy efficient. A member of the congregation had read about Clearview, and their experience of fitting secondary glazing in churches. Matt spoke with an official at a church in Rawmarsh, 20 miles away, where Clearview had fitted secondary glazing recently.
Says Matt: "I was told that the church was delighted with the secondary glazing which had been fitted, because it had made rooms much warmer."
He subsequently asked Clearview to quote for warming up Wesley Hall. So far, the company has attended to 13 windows, in four rooms, and will work on the rest when the church has funds available. Clearview's secondary glazing comes in a wide range of colours to blend in with buildings of all ages, and Wesley Hall chose a frame colour which matches it's original Edwardian stonework. The 13 windows were fitted in three days.
Says Matt Irons: "The secondary glazing has certainly made our rooms warmer, and therefore much more comfortable."
Clearview's secondary glazing is suitable for nearly all styles of window, and can slide, tilt or turn to suit your requirements. It is ideal for period property and listed buildings because it doesn't affect the original window and is barely noticeable inside or out. Frames are available in a wide range of colours, including white, mahogany, and light oak, and a host of special RAL finishes. It's easy to fit, open, and clean, and is much more cost-effective than replacement windows.
Clearview can supply secondary glazing units for you to DIY, or their installation team can do the work. Whichever option you choose, there's no re-decoration involved and the glazing can be installed all year round.
Recommended Posts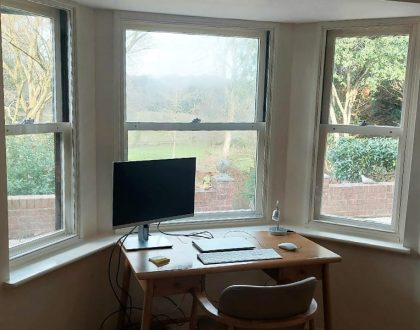 11/03/2022