---
CASE STUDY: Sheffield Presbyterian Church
At Clearview we work on a range of different properties, from small flats, to large commercial premises, modern new builds, to listed properties. Every job is unique and we love hearing from our customers about how they are benefiting from secondary glazing and their experience.
At this project in Sheffield it was no exception. We are often called upon to provide secondary glazing for churches as our products are approved in listed buildings and offer high performance solutions that provide much needed thermal insulation.
In this case study Kevin Bidwell, Minister of Sheffield Presbyterian Church shares his experience of using the Clearview team and the benefits he has experienced since installing secondary glazing. His church was cold and draughty with large amounts of heat escaping through the single glazed windows. He was so impressed with the improvement that he kindly shared his story….
"One of the challenges that we face at Sheffield Presbyterian Church is that we have a growing congregation that actually meet in this chapel. I mean, it's taken us about three years to actually get planning permission for what is a Grade II listed building. Most of the heat loss that we have is actually through the windows. One of the ways we need to maintain, not so much the integrity, but the usability of the chapel, is to put secondary glazing upon the windows to really maximise heat retention.
One of the reasons why we were looking at secondary glazing was this is a Grade II listed building, and as a result of that, the significant heat loss from this place, as a living Christian church, is actually through the glass. The immediate impact has been in terms of heat retention, but then it's made a significant impact.
I think the first thing that really struck me about Clearview was the professionalism and friendliness of the two men who fitted things. Actually, they were not only interested in dealing with myself and others in a very friendly way, but they were genuinely interested and had professional advice to be able to answer questions intelligently.
I think the first impression, not only for myself but for others, when the secondary glazing was first fitted, was that it was very discreet. You couldn't really tell that it was there. In fact, I think, the overall impression from everybody and with myself, was that it was far better than we'd envisaged.
I think what's overall impressed us about the job has been not only the interface with the team, the quality of the job, and then the attention to detail, the way it's been installed, but overall, our number one desire and goal was to maximise heat retention, but there's been two other benefits, which we didn't count on. Sound insulation, and thirdly, essentially, enhance the aesthetics of the building. They're not taking it away, which is actually a very surprising bonus."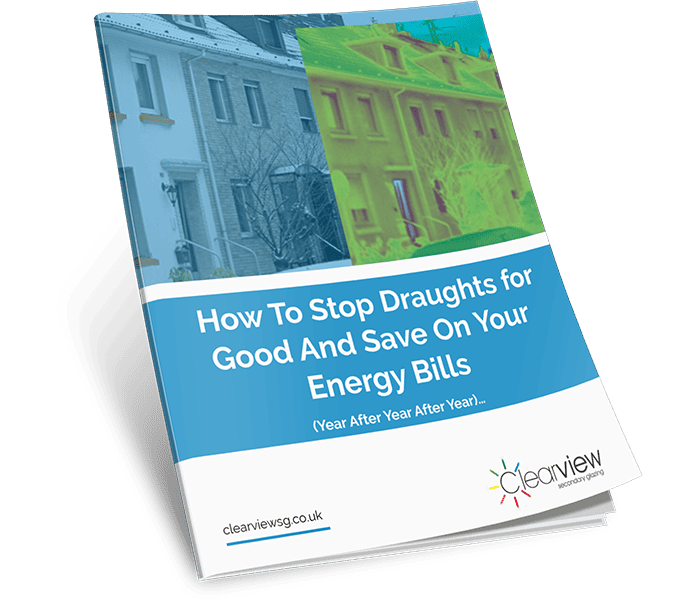 Discover How To Stop Draughts for Good And Save On Your Energy Bills
This free eGuide – written by specialists – explains in simple terms how to improve the thermal efficiency of your windows by 60% and how you can reduce your yearly heating bill by 15%.
Simply enter your name and email below and we will send a free copy straight to your inbox.